EVGENII GRISHIN – PHD IN HISTORY
Event date:
09.10.2017
Organizer:
Department of History
Speaker:
Evgenii Grishin
Rubric:
Achievements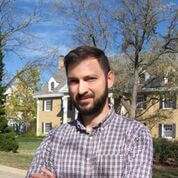 EUSP History Department graduate Evgenii Grishin defended his PhD dissertation at University of Kansas on July 14, 2017. The dissertation written under Professor Eve Levin's academic supervision was titled "The Concepts of the "Schism" and "Schismatic" in the Church and State Discourses of Seventeenth and Eighteenth-century Russia".
We congratulate Evgenii on his successful defense and PhD in History degree.
Found a typo? Please select it and press Ctrl + Enter.